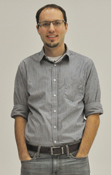 RESUME
I have dedicated my career to a diverse yet specialized set of talents to be well equipped for today's ever changing society and media demands.
DOWNLOAD, VIEW, OR PRINT

HONING THE CRAFT
I have a strong passion for creating compelling new media content. Our society is ever changing, and the method in which we consume it is a growing and changing entity. Embracing these changes and working with it as opposed to seeing it grow around us is the key to survival.
I have dedicated my skill set to being in touch with the fast paced changes in video production and website design, coding, and development to keep my work cutting edge.